Welcome to Cargo Security Alliance, Anonymous Friday, September 29 2023 @ 08:20 pm UTC
Topp Clip Starter Set (50 Pallet Seals with With Hole Punch)
$275.00 - SKU: TCSS-1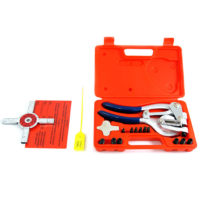 Suitable for use with plastic or metal pallet strapping up to 0.5 inch wide. Includes 10 or 50 matched sets of metal Topp Clipps, labels and plastic seals, all with matching numbers. Includes 1 heavy duty hole punch
Sold in in single cartons
Description
Thieves can easily access pallets with conventional banding and remove and replace that generic banding with little skill or effort. After the banding is removed, the contents can be removed and/or contraband can be added.
The Topp Clip system is designed to secure the pallet by indicating tampering or replacement of the original banding. Other applications include banding on other containers such as crates, totes, slip trays, etc.
Once applied, tampering or replacement of the banding is extremely difficult without leaving signs of tampering. The metal Topp Clip is the only crimp for the strapping. The presence of any other banding crimps indicates tampering.
To Order Contact:
Erik Hoffer
24156 Yacht Club Blvd
Punta Gorda FL 33955
Tel. +1 (941) 740-0074