Welcome to Cargo Security Alliance, Anonymous Friday, September 29 2023 @ 08:34 pm UTC
Secure TRAC Tamper Evident Tape, Red, 1.5 mil, 2 in X 250 ft
$45.75 - SKU: STT2-1.5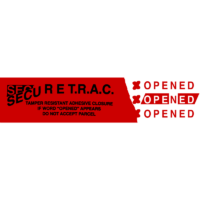 SecureT.R.A.C. 2 inch wide tamper evident security tape leaves a tamper evident message when removed from most surfaces, including corrugated cardboard, metal, painted, and powder coated surfaces. For additional security, SecureT.R.A.C. has sequential serial numbers every 9 inches. Available in polyester rolls at stock lengths of 180 and 250 feet, in red, blue, and green colors.
Sold per Case
Cases include 36 Rolls
Description
The Difference
Standard clear sealing tapes and tapes with logos provide little protection against theft, relatively little in the way of identity or authenticity and no defense against surreptitious entry. To meet the special needs of those responsible for the secure transportation of valuable merchandise, CGM NV offers self-wound tamper evident carton sealing tape called Secure T.R.A.C.
For most applications, Secure T.R.A.C. tamper evident tape provides an excellent deterrent to theft while securely sealing your carton. If entry does occur you will know about it before a bill of lading is signed and title passes. Upon delivery of your goods it provides recipients with a simple visual template for inspection that can save your business from costly concealed losses.
Security Features
Secure T.R.A.C. is designed to create visual evidence of tampering by revealing a hidden message when the tape has been lifted or otherwise breached. Because it is made with a silicone face coat, Secure T.R.A.C. tape cannot be resealed or taped over without leaving obvious evidence of tampering. Secure T.R.A.C. is sequentially numbered every 9 lineal inches, providing an easy to inspect audit trail for the box or pallet.
Recommended Usage
Secure T.R.A.C can be applied by automated mechanical dispensers or by hand held tape guns.
Customization Options
Secure T.R.A.C. is available in a standard width of 2 inches and standard lengths of 180 and 250 feet. Custom widths and lengths can be provided for automated applications. Secure T.R.A.C. can be customized with your company name or logo. The standard, repeating hidden message (OPENED X OPENED X OPENED) can be customized with any language or copy. Call 1-941-740-0074 for quotes on custom security tape.
If your product is worth protecting against theft or tampering, Secure T.R.A.C. is the right choice.
To Order Contact:
Erik Hoffer
24156 Yacht Club Blvd
Punta Gorda FL 33955
Tel. +1 (941) 740-0074