Welcome to Cargo Security Alliance, Anonymous Friday, December 01 2023 @ 10:18 pm UTC
DualGuard Premium Bolt & Cable Seal Combinations Adjustable Length
Description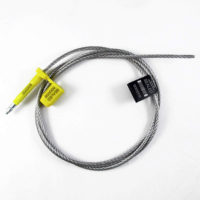 Barrier seals provide the maximum protection for shipping cargo via trucks and containers. Installed on the locking rods of the shipping container doors to secure both doors, they are easy to install and require no special tools. Most of the barrier seals featured on this page are a one-time use product.
C-TPAT and ISO 17712:2013 Compliant High (H) Security Seal
Our DualGuard seals include a 5mm cable seal and 8mm steel bolt seal in a unitized construction. Both the cable and bolt seal are both C-TPAT compliant and meet the new design and construction standards of ISO17712:2013, which provides improved security.
The cable is 76 inches long, which typically allows for a triple-wrap around the locking bars. The bolt seal secures the latch.
Sold in Boxes of 50 DualGuard Seals
Pricing Information

Qty (Cases)

Qty (Seals)

$/Seal

$/Box

Total

1
50
$5.00
$250.00
$250.00
2
100
$4.75
$237.50
$475.00
4
200
$4.50
$225.00
$900.00
10
500
$4.25
$212.50
$2,125.00
20
1,000
CALL
CALL
CALL
To Order Contact:
Erik Hoffer
24156 Yacht Club Blvd
Punta Gorda FL 33955
Tel. +1 (941) 740-0074