Welcome to Cargo Security Alliance, Anonymous Friday, September 29 2023 @ 09:08 pm UTC
Reusable Barrier Seal, MS-BAR9
$25.25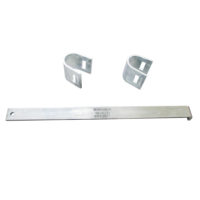 We also offer a reusable barrier seal which consists of the locking bar and two floating shackles.The locking bar has an 11mm ID hole (7/16 inch) to accommodate a bolt seal or your padlock.
The recommended method to lock the MS-BAR9 is using our MS-B8 bolt seals (purchased separately). Although the bolt seal is a one-time use seal, the barrier seal components are re-usable.
The MS-BAR9 also includes these added features:
* Matching serial numbers on all 3 components for added security
* Constructed of thicker steel for added durability and security
* Unpainted metal components highlight tampering
* Accommodates more container doors (up to 17.25 inch spacing of locking rods)
* Easy to install (typically less than 15 seconds)
The MS-BAR9 is constructed of the same components as our ISO-certified barrier seals (BAR10 and BAR11). However, MS-BAR9 has not been ISO-tested and therefore does not have the ISO-certification at this time.
Each seal is packaged individually in a box suitable for shipping, which simplifies the logistics of distributing individual seals.
Full cases include 6 seals. Each seal is packaged in an individual box.
Pricing Information

Qty (Cases)

Qty (Seals)

$/Seal

$/Box

Total

1
6
$25.25
$151.50
$151.50
8
48
$24.00
$144.00
$1,152.00
16
96
$22.75
$136.50
$2,184.00
21
126
$21.50
$129.00
$2,709.00
34
204
CALL
CALL
CALL
Description
Barrier seals provide the maximum protection for shipping cargo via trucks and containers. Installed on the locking rods of the shipping container doors to secure both doors, they are easy to install and require no special tools. Most of the barrier seals featured on this page are a one-time use product.
To Order Contact:
Erik Hoffer
24156 Yacht Club Blvd
Punta Gorda FL 33955
Tel. +1 (941) 740-0074