Welcome to Cargo Security Alliance, Anonymous Friday, September 29 2023 @ 07:30 pm UTC
CargoShield MS-BAR12 with Cable and TET Seals
$33.50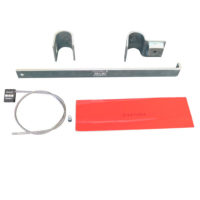 For added security, our CargoShield BAR10 is also available with an optional cable seal to secure the barrier seal to the door latch and a Tamper Evident Cargo Door Seal. In this configuration, the barrier seal is our product MS-BAR12. Adding the cable seal provides these security features:
Secures the locking bar by restricting its movement to prevent tampering with the locking rods and/or barrier seal
The cable seal has a matching serial number to the barrier seal, which provides another layer of security and authentication
Includes a bar code version of the serial number for improved productivity in machine-reading the serial numbers
Secures the door latch, which reduces costs since a separate bolt seal is not required
Requires two cuts to fully remove the cable and the barrier seal, adding security
Tamper Evident Cargo Door Seal features include:
Premium adhesive for cold weather application
Tamper Slits in the film for added security
Perforation between labels for ease of use
Serial number (0.25 inch high) under the film for minimum 1 year outdoor life
Full cases include 6 seals, each seal is packaged in an individual box suitable for shipping, which simplifies the logistics of distributing individual seals.
Pricing Information

Qty (Seals)

Qty (Cases)

$/Seal

$/Case

Total

6
1
$33.50
$201.00
$201.00
48
8
$33.00
$198.00
$1,584.00
96
16
$30.50
$183.00
$2,928.00
126
21
$29.00
$174.00
$3,654.00
Call for pricing in quantities > 156 seals
Description
Barrier seals provide the maximum protection for shipping cargo via trucks and containers. Installed on the locking rods of the shipping container doors to secure both doors, they are easy to install and require no special tools. Most of the barrier seals featured on this page are a one - time use product.
To Order Contact:
Erik Hoffer
24156 Yacht Club Blvd
Punta Gorda FL 33955
Tel. +1 (941) 740-0074